Nano Pro MT
B2B, built on WordPress
Hipstik Legwear
e-commerce, built on Shopify
PlantingTree.com
e-commerce, built on Shopify
Health Credit Services
Large B2B and B2C site, built on WordPress, purchased by Ally Bank®
Cheerwine
Design, SEO, and SEM (Google PPC)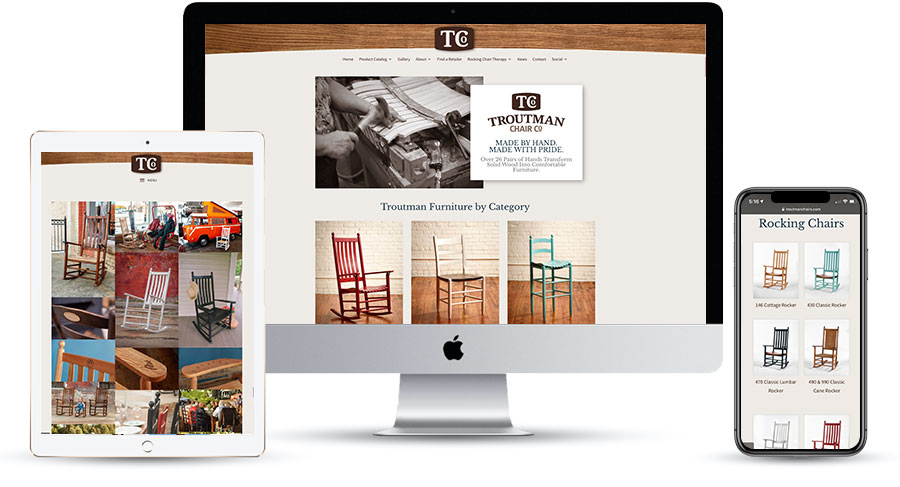 Troutman Chair Co.
Built on WordPress and WooCommerce
Gregory Art Services
B2B, built on WordPress
Hipstik Legwear
e-commerce, built on Shopify
Health Credit Services
Large B2B and B2C site, built on WordPress, purchased by Ally
Nano Pro MT
B2B, built on WordPress
Cheerwine
Design, SEO, and SEM (Google PPC)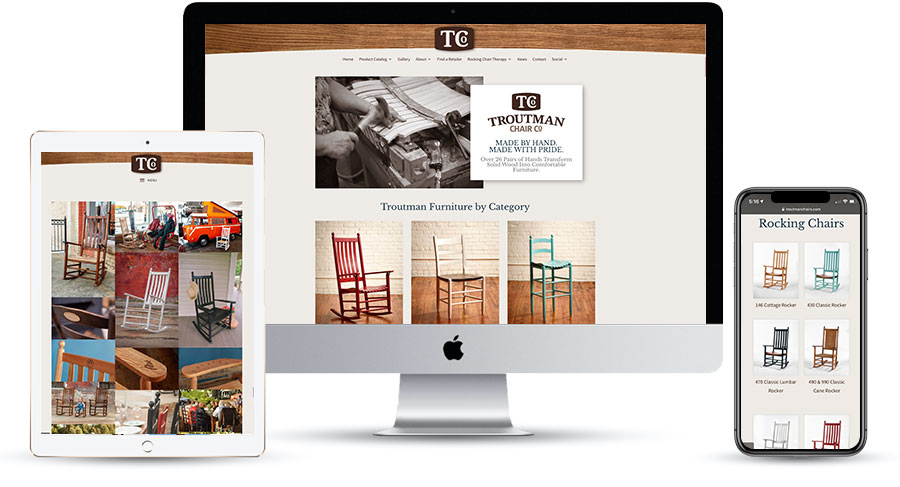 Troutman Chair Co.
Built on WordPress and WooCommerce
Gregory Art Services
B2B, built on WordPress
5 Key Factors for a Successful Web Presence
Your website needs to be more than an online brochure. Great design won't stand up without great content. You're spending money on a website, so make sure it's working hard for your business. Websites are an indispensable marketing tool.
Design With dozens of options to choose from, today's internet user judges a book by its cover. Websites are like billboards – we have only seconds to capture a visitor's attention and draw them in deeper. Having a well-designed website builds credibility and trust.
Mobile Friendly 80% of people carry their computer in their pocket – aka cell phone. We'll make sure your website performs perfectly on a phone so you're not losing 80% of your business.
Goals & Measurement What do you want your website to do for your business? We'll set goals and put measurements in place to track progress towards those goals.
Messaging & Content Let's define who you are, what you do, and why you are better than the competition. Message hierarchy plays an important role in keeping people on your website and funneling them to the right information to secure an action – such as a sale or lead gen form submission.
Marketing Integration How are you driving traffic to your website? How does it support your social media efforts? At what point in the customer journey are people visiting your website? We'll answer these questions and build a plan to put your website to work.
That's how fast people form an
opinion about your website.
of first impressions
are design related
of people research a business online before making a purchase
Let us offer you a free evaluation of your existing website's design, mobile performance, messaging, and SEO. We'll take a deep dive and provide insights to you with a clear plan to take advantage of valuable opportunities. Nothing to lose, only to gain. 
Our Website Build Process
1) Outline & Content Development
We start with an outline of each page because detailing the primary message of that page, expected functionality, goals of the page, and its connection with the rest of the site sets your site up for success. Once we have a solid outline, we conduct keyword research to write powerful converting content for each webpage, including your unique SEO meta titles and meta descriptions that many other web dev companies leave up to you. We'll also plan for your visual content during this stage. We can tap into stock photography or capture custom photos of your products or services for you. Video is also a compelling tool to implement in your website experience.   
2) Architecture & Wireframes
For complex websites, we build wireframes to plan and visualize the messaging hierarchy for key pages.
Inspired by your brand and made for you, we use our keen eye and draw from 20 years of experience to design your homepage and one to two internal pages. From these approved pages, the design will be applied to the rest of the site. If you have a new brand, we recommend starting with mood boards. Learn more about how we can help define your brand strategy.  
We develop the site on a temporary URL (beta site) on the world's top platforms like WooCommerce and Shopify. If you haven't already decided on your site's platform, we can help you determine this based on your individual needs and goals. Once the site is fully developed, we will have you review the beta site prior to redirecting your primary URL and making your site LIVE!
We Build with WordPress, WooCommerce, & Shopify
WordPress offers a content management system (CMS) that is user-friendly, scalable, secure, and versatile. Over 455 million websites use WordPress – making it a popular, well-developed platform. 
WooCommerce is the e-commerce plugin for WordPress. It offers seamless integration with your current or new WordPress site and allows for ultimate customization of how your storefront looks.
If your e-commerce store has a large catalog of products or you want to reduce the amount of technology upkeep then Shopify is the perfect solution. You don't have to worry about upgrades, security, entering state tax changes, or figuring out a third-party shipping tool – it's all integrated. 
Having us host your site for you has many benefits, like controlling performance such as load times and security. We offer a free SSL certificate with your hosting and access to a CDN for faster image loading speeds. 
Prefer to stay with your current hosting provider? We can work directly with them to ensure the transition to your new site is a smooth one.
We recommend clients use separate server locations for email and websites. This way you can move website hosting without affecting your email. We recommend Google Business accounts for hosting email.
Just like machines, all websites need ongoing maintenance. WordPress and the plugins, used to add functionality to the site, all require updating on a monthly basis. Let us take care of your maintenance to ensure that your site is performing at its best and is less susceptible to hacking attempts. 
Will I own my website and code?
Absolutely. Once all invoices are paid, you're the proud owner.
Will I be able to make changes to the website myself?
Yes. We develop each site in a way that allows you to make minor edits to the website yourself. If there's a specific section you anticipate updating frequently, let us know and we'll be glad to make that section easily editable. 
Can you make the changes for me?
Absolutely. Our easy monthly maintenance plan covers changes that come up or we can simply bill for time spent.
If I build it will they come?
Having a website and driving traffic are two different animals. We highly recommend having a plan for acquiring traffic. We can help you build organic traffic and drive paid traffic through Content Strategies, PPC, Facebook and Instagram Advertising, and more! Learn more about our Marketing Roadmap service. 
Can you help me get more traffic to my website?
Yes! Put our 30 years in marketing to work for you. We can develop and execute a custom plan to drive more targeted, relevant traffic to your website with tactics such as PPC Advertising, Social Media Advertising, Affiliate Marketing, and more. Launch a discovery call today. 
What if I don't have photos for my website?
Visuals, like photography, are a key element for web design. We subscribe to multiple stock libraries to tap into for your distinct look & feel. Need custom imagery? Benefit from our long-standing relationships and pricing with talented photographers and videographers who can exquisitely capture your products, services, and people. 
How often should a website be updated?
On the technical side, it's imperative that WordPress CMS and all plugins are updated monthly to reduce hacking attempts and broken links. From a visitor standpoint, content on your site should be kept fresh and we can help you determine your refresh cadence and optimization plan. 
Why do I need an SSL certificate?
An SSL certificate makes your website secure. This is required for all e-commerce sites but is highly recommended for all sites because Google gives preference in ranking to secure sites. 
Can you help me with a domain name?
Yes! We can help you come up with a domain name and strategically secure any variations of that URL that will protect your brand. We can also help you through the process of purchasing a domain name through GoDaddy. We can handle the setup of the technical pieces once the domain is secured. 
Can you help me set up a business email address?
Yes! We'd be glad to help with technical support through the setup of your email addresses. We recommend that all clients use separate server locations for email and websites.