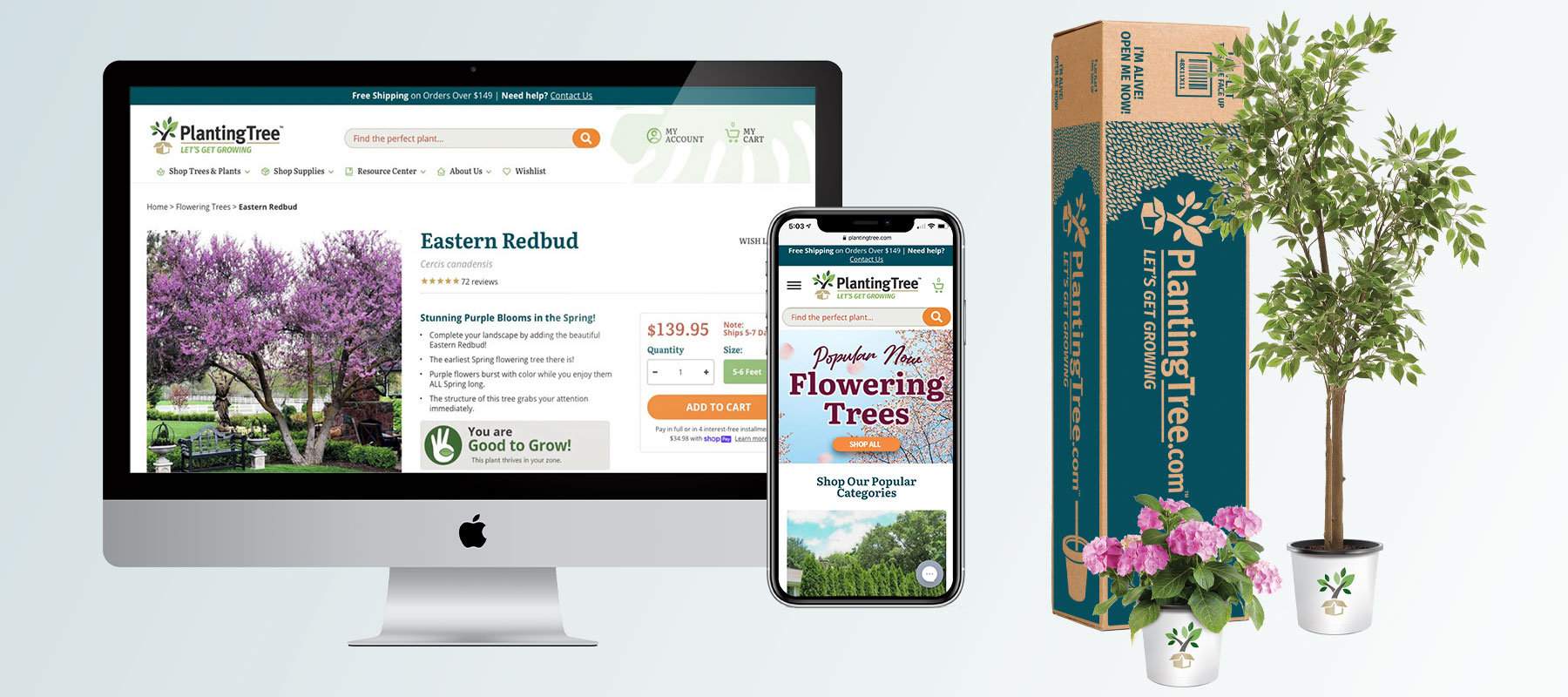 Brand Development + Marketing = Explosive Growth
PlantingTree.com – eCommerce Nursery
While many industries saw a decline during the pandemic, home improvement boomed. The owners at PlantingTree.com experienced this growth first-hand. They knew that in order to continue riding the wave, they would need to invest in both brand development and marketing strategy. In August of 2020, they retained Fifty/Fifty as their marketing agency and creative development partner. 
The two main challenges asked of us:
Create tighter brand definition through creative messaging, better design, and consistency.
Match 200% sales growth seen in 2020.
The first quarter of 2021 has succeeded in delivering 200% growth from 2020. Major initiatives completed include:
Updated branding
Brand standards
Marketing and promotion strategies
Updated packaging
Launch of new website
Call us! We'd be glad to discuss your explosive growth strategy. 336-264-8306
Services
Brand Definition
Marketing

Promotion Strategy
Email Marketing
SEO, SEM, and PPC
Social Media Marketing
Affiliate Marketing
Content Strategy

Creative Development

Web Design
Package Design
Email Marketing Design
Social Media Graphics
Promotional Materials
WHAT:
PlantingTree.com makes it easy to buy plants and trees and grow them to their full potential.
HOW:
We sell a popular variety of plants and trees through our online garden center.
We help you choose the right plants for your climate and the results you want to achieve. We help you nurture and grow your plants with our insights and supplies.
WHY:
Because planting should be
fun, easy, and joyful!
Helpful – we're here to make your gardening experience the best it can be with our customer support, knowledge, and ease of use
Exciting – the sense of accomplishment and beauty one gets from growing a plant and tree
Insightful – we have a deep knowledge of growing and caring for plants which we will apply to each customer's gardening situation
Simple – we're making it easy to buy plants online and be a successful gardener
Trusted – our customers trust us with the time and money they invest in growing something amazing – they do this because we are experienced, straightforward, knowledgeable, and caring
Moodboards (visual framework)
Developing a Better User Experience
Before jumping into design, Fifty/Fifty did a full analysis of the PlantingTree website (built on Shopify) including a review of Google Analytics, studying heatmaps and site recordings via Hotjar, and mapping all 500+ pages. We found that over the course of time, the hands of multiple designers and developers led to inconsistency in visual aesthetic, tone of voice, and code bloat was slowing the user experience and effecting SEO, conversion rates, and site engagement. We handcrafted each page and module based on findings and user feedback. The result is a user experience that is colorful, fun, organized and efficient.
Key Improvements:
Clean, Yet Informative Product Pages – There is a lot information to display for a plant and we had to strike a balance between displaying critical information and keeping obstacles out of the buying journey. We created icons for key features. We added sections for description, FAQ, and Caring For – strategically as accordions so not all copy is showing at one time. This was especially critical for the mobile experience. We also standardized how all product copy is formatted.
Smart Cart Page – We made dramatic changes to the cart page to make it more clear what products and additions are in the customer's cart and how much they cost. We helped PlantingTree realize incremental revenue by making it easy to upsell shipping protection and a 1-year warranty. We also made it clear where the customer stands on receiving free shipping with a bar indicating what is needed to qualify.
Detecting the User's Growing Zone – We use IP address lookups and a custom database to detect the user's growing zone which programmatically shows a large graphic next to the buy box, telling the customer "You're Good to Grow!" or "This Plant is Outside Your Zone". All the work is done for them – reflective of our core brand attributes.